Hello, my loves!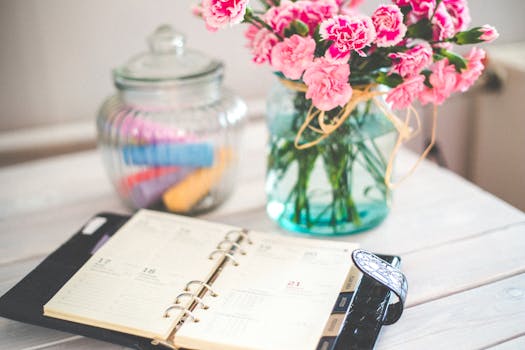 I thought I'd talk about something I think that happens to all of us: disorganization. I honestly feel like I am one of the most organized people I know but at the same time, when in a state of depression or anxious worrying I can become an organizational disaster. I thought I'd do a simple guide to re-balancing your life when times like this happen.
Clean your space. This is a very simple step which can definitely lead to a better state of mind. When we have papers all over our desks, or clothes piling up on the closet floor, it can be a trigger for us to want to throw up our arms and push it aside. However, the best thing we can possible do is tackle it straight on and make room for more important things in our head. When we are surrounded by clutter we often focus on it more than the tasks we have at hand and it can truly become a problem.
Write things down. Making a list, or simply opening a journal and writing can help organize your thoughts and express your feelings. There is a lot of energy we invest on thinking about things and it can be exhausting, so try to get rid of any negative thoughts or even details you just don't need to be ruminating about.
Start a new planning system. I personally enjoy planning on paper. However, sometimes if that isn't working you may want to try a digital option or vice versa. I really like bullet journaling, but it doesn't seem to get done when time is not available. However, I noticed using a standard day planner is the best option for me. Even buying a new planner can work for motivation, and I think right now is the best time of year for this because planner companies often release a mid-year planner. Try whatever you need to, and refocus! You know yourself best, so follow what you feel you need atthis time.
Reward yourself and have fun.  Life is difficult and there is no point in denying it isn't going to get easier. There are many obligations we have and there are many things we have to do that we don't want to but that doesn't mean you can't reward yourself and have fun too. When we spend too much time working and we ignore the desire for adventure or an escape, it can get to us. Try scheduling social times at least twice a week or more depending on your schedule. Make the weekends a no work time! You deserve to have that ice cream sundae, and you definitely should treat yourself to a face mask after a long day. Don't let life get too stale or you will soon find yourself unmotivated.
Establish a routine. I have noticed that when I am in a routine, I can easily make decisions and establish daily goals. However, when things are chaotic it is so much m ore difficult to get through the day. Even if it is a morning routine, or an evening routine, there should be some sense of knowing what you can expect at certain times and plan your work accordingly. Try to wake up around the same time, go to sleep around the same as well. It doesn't matter if your routines are elaborate but try to make them positive, so you can look forward to grounding yourself at these times.
I hope these simple tips helped with anyone who is also struggling with staying organized or perhaps just needs to feel a little more balanced in your life. We all go through moments in life where it is difficult to stay focused, and it's okay! Just remember that you are a wonderful, thoughtful, beautiful person who doesn't need to be "on" all the time. Good vibes only!
Until Next Time,
Julie